Having a bathroom transformed into a spa is a popular and easy way to indulge yourself at home every day.  Here are some tips to get you going.
Lighting
Go for soft, light, and warm colors for your lighting. That way, your bathroom will feel more tranquil and inviting. You can also install a dimmer so you can adjust the intensity of the bathroom's lighting as needed.
Add Wood Elements
Adding a touch of the natural,  like wood,  will give your bathroom an instant warmth and a relaxing vibe.
Below a gorgeous tub shower combination with a  Bella Stone™ Bathwall Tile System that reflects the soft dimmable potlights is paired with luxury vinyl wood-look click floor and a rustic wood mirror.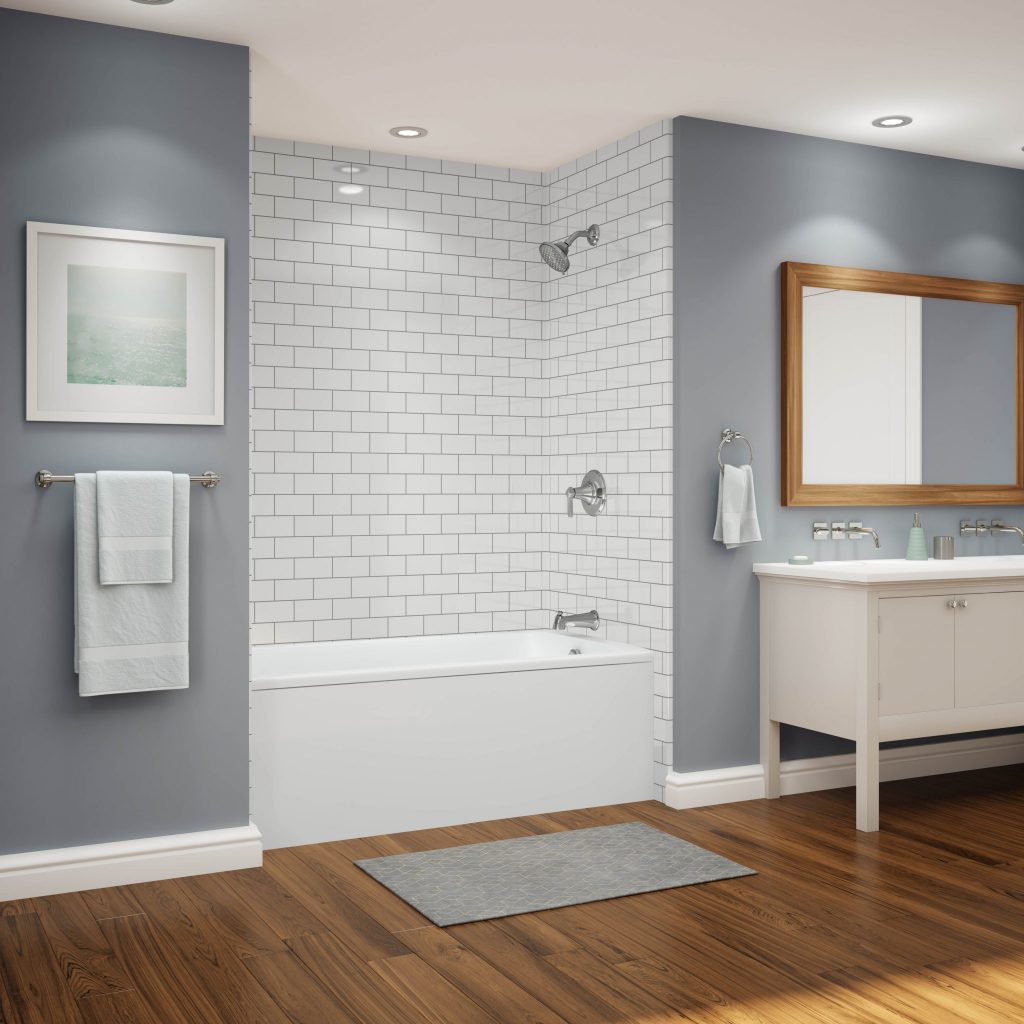 Paint Colour Switch Up
Opt for relaxing pastels or neutrals that evoke the colors of nature when painting your bathroom. Or you can go for drama with contrasting colors.
If you love white, that works too, however we recommend getting more of a creamy natural shade as opposed to a blue based stark white.  Favourites by Benjamin Moore include Chantilly Lace OC-65 and Ballet White OC-9.
Consider a Bathtub
Showers are all the rage when we are in a hurry or have a busy family but a bathtub is the ultimate spa feature that allows you to soak and relax while in your bathroom.  If you love both, consider a tub/shower combination for your spa bathroom makeover.
Below, the Empire tub/shower features a luxurious sloped lumbar support with dual arm rests so you can soak in complete comfort.  A built in towel bar is conveniently stored inside for ease of use as well.  Natural wood accents again complement this calming design aesthetic.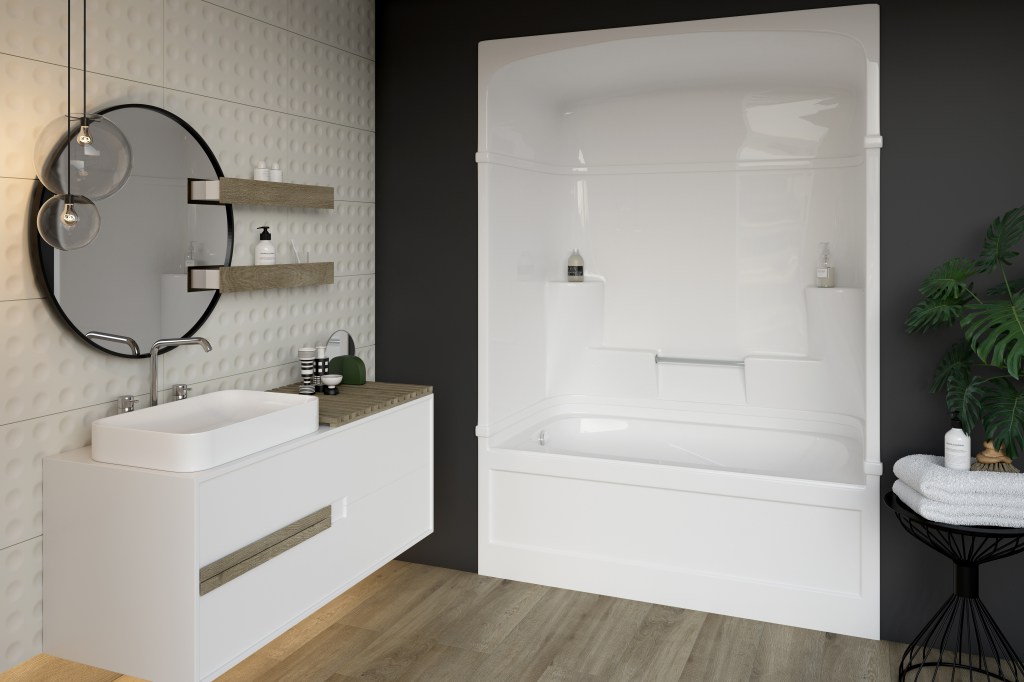 Add Extra Furniture
You can spruce up your bathroom with extra furniture if you have the space for it. For example, a chaise lounge would be divine for putting your feet up after a bath, or having a seating area to rest items on before and after you bath.  Having storage inside is another consideration to keep things clutter free.
Below some handy seating adds to the spa like feel of this Sandstone Bathroom.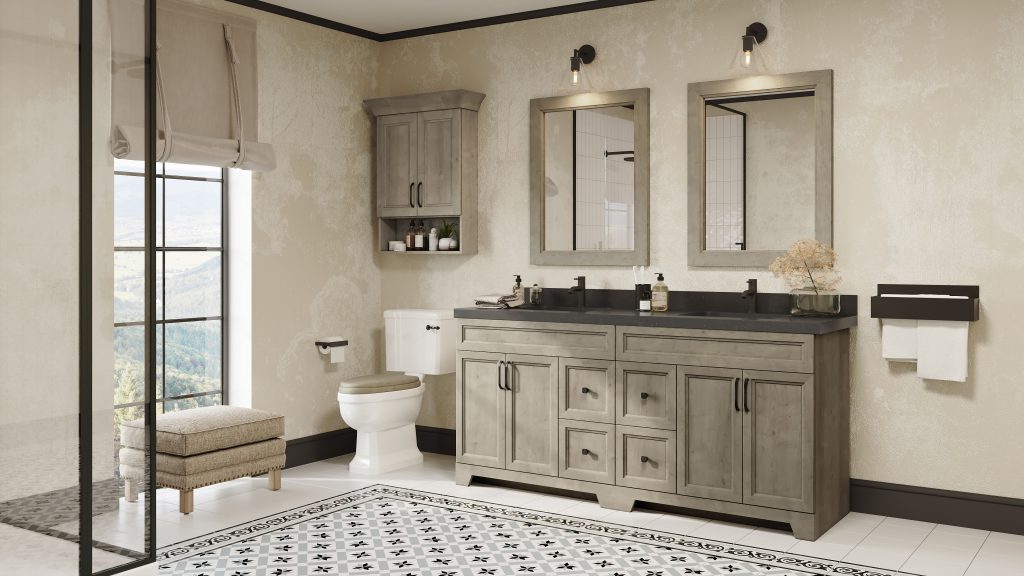 Music
There is nothing like a tranquil soundtrack to add to the spa like feel of a bathroom when you are in relaxation mode!  Create a playlist on your favorite music streaming service that you can play while you're in the bath. It could be nature sounds like falling rain, twittering birds, or crashing waves. It could also be classical music if you're into it. Any music that slows you down and puts you in the mood to relax is good.
Scent
Just like music, scents can also put you in the right mood. Scents known for their calming effect include rosemary, jasmine, ylang-ylang, lemon, peppermint, and lavender. Try out some scented candles or bath salts with those aromas. Or you can use your own favorite scents.
The Details
Fluffy towels, special soaps and a velvety bathrobe are all little details that you can add into your bathroom that will make it spectacular.
Ready to add a luxe, spa vibe to your bathroom? Feel free to contact us, and we can work together in creating a bathroom you'll absolutely love!
Please contact us for a FREE in home estimate by filling out the form below or call us M-F at 905-641-2284.