We have the shower systems and all other accessories you need and want to complete your bathroom renovation.
From basic to designer, with many finishes and features available, we feature collections from top brands like American Standard, Pfister and Tenzo that will add a modern and beautiful finishing touch to your bathroom no matter what your style preference.
**Below, find a general description of each shower system available and note we can obtain almost any products you desire in your bathroom, simply contact us directly.
Hand Held
A hand held shower can be a very convenient option that gives you water where you want it.
With the flexibility of using it wall mounted or by hand, these showerheads have different spray patterns and adjustable pressures to choose from and are a convenient feature to have for many households including those with children, elderly individuals or even pets.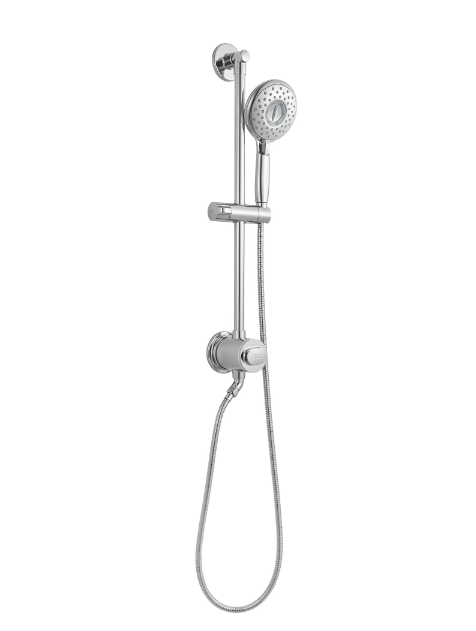 As a leader in providing solutions for better living and increased well-being, American Standard developed the Spectra Filtered 4-Spray Hand Shower Rail System. Chlorine in your shower water can dry out your skin and damage your hair. The Spectra Filtered System helps keep your skin and hair healthy by reducing up to 50% of chlorine in your shower water* for a more enjoyable showering experience. Built into the sleek rail system, the filter is easy to change and eliminates the need for a bulky add-on filter. The Spectra hand shower features four spray functions, from a drenching rain to a pulsating massage, and is mounted on an adjustable, smooth-gliding holder ensuring a comfortable height and angle for everyone. This sleek, filtered shower system is easy to install using your existing shower valve and plumbing for a quick bathroom update that is both beneficial and beautiful.
Shower Columns
A shower column (also known as a shower tower), is a high-performance luxury shower that features a shower head, shower valve, controls, pipework, and occasionally additional shower outlets all encased in a tall uniform box.
These devices often feature exciting supplementary features to allow you to create a spa-like experience in your own home.
They are our top pick for those who want to make a big style statement in their shower space.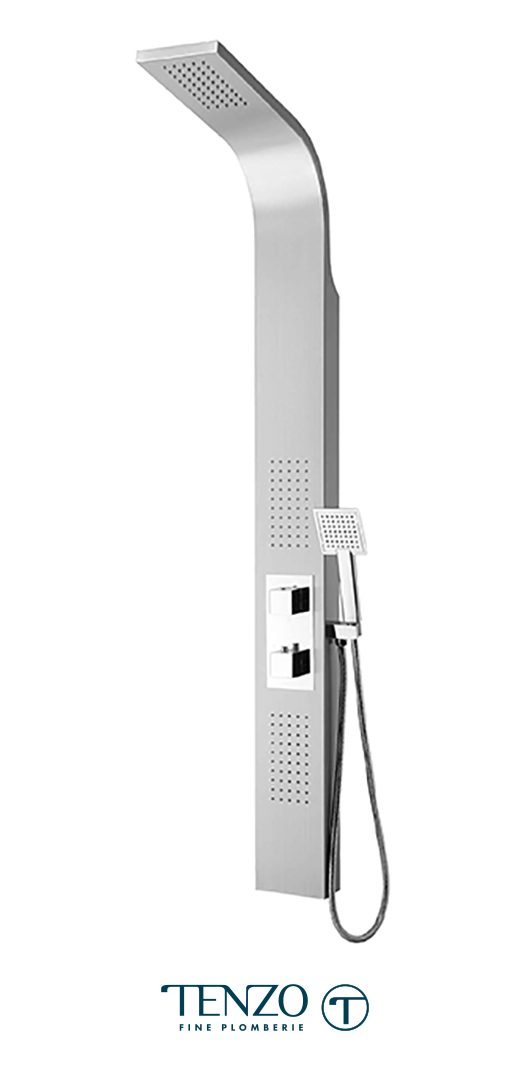 The Tenzo TZST-15 Shower columns – Stainless Steel, 3 functions
DESCRIPTION • Thermostatic valve 30L/min [7.9 gpm] @60psi • Ceramic shut-off valves (3x) • Assembled with stainless steel braided hoses • Anti-limestone body jets (2x) • Female connections 1/2in Hi-flow • Limited lifetime warranty
Rain Shower
A rain showerhead, also known as a rainfall or waterfall showerhead, is a ceiling-mounted showerhead that sprays water down vertically. It has light water pressure to mimic the feel of rinsing in the rain, so even on your most hectic mornings, you can enjoy a relaxing, serene shower before you start your day.
Pictured the American Standard 10-Inch 2.5 gpm/9.5 L/min Rain Showerhead which features drenching rain water flow with easy clean showerheads as well as style and performance that fits perfectly into your life.
Wall Bar
A wall bar shower can be a great addition to the shower area for safety reasons and can look great in your bathroom. It also can be adjusted to suit your individual needs.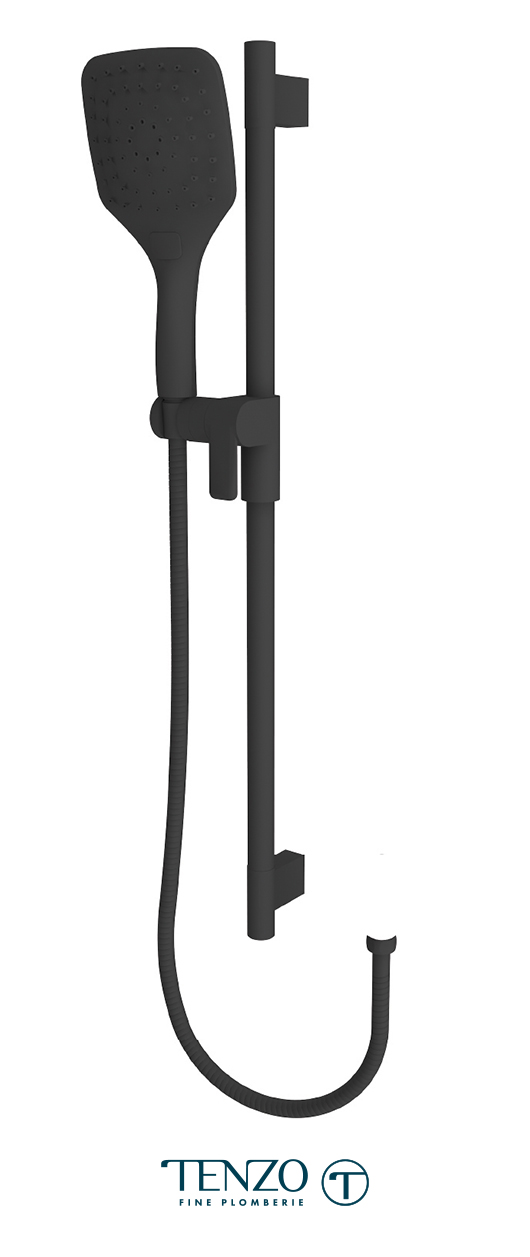 DESCRIPTION • Sliding bar matte black (RD-35-MB) • Hand shower 3 functions PVC chrome (HS-218) • Shower hose stretchable (SSHE-150)
Ready to start your new bathroom project?