When it comes to bathroom renovations it is important to consider all options including a bathroom retrofit.
What is a Bathroom Retrofit? It's good to know the difference between your two options of updating your bathroom. A bathroom retrofit is updating your bathroom by building over the existing bathroom. A bathroom remodel is tearing out and replacing portions of your bathroom or ripping everything out and starting over entirely.
Bathroom retrofits have many advantages, and the process tends to be easier and faster than remodeling, plus it looks fantastic when completed.
Below, a Utile tub and shower combination as part of a retrofit renovation by Twoday's Bathrooms.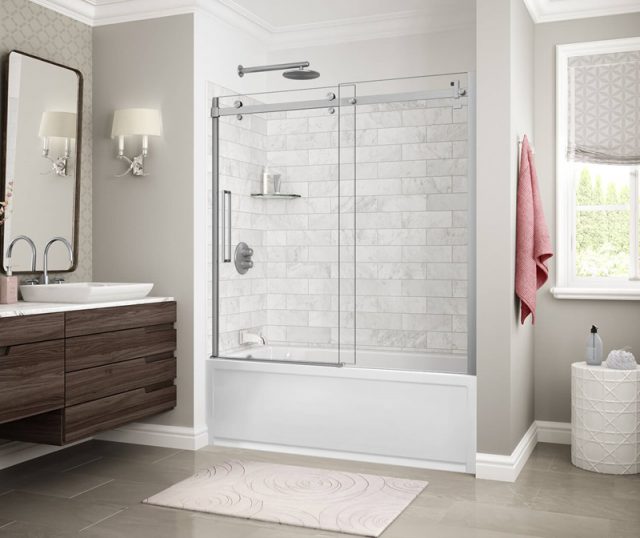 Benefits of Bathroom Remodeling Retrofit
Your bathroom is one of the most frequently used rooms in your house. Time can take its toll on the fixtures, pipes, tiles, and tub in a one bathroom, large family household . There are many reasons for a bathroom remodel, including being outdated, mold or mildew, or fixtures needing a face lift.
When you start with a bathroom remodel, it helps to work with a professional who can give you ideas on how to do a bathroom retrofit. With many years of experience, bathroom professionals can make the process easier, less stressful, and save you time and money.
Below are the ways bathroom retrofitting can benefit you:
Easy Shower Install During a bathroom retrofit, a professional will measure the precise dimensions of your existing bathtub or shower, remove all the old fixtures and then place a brand new unit of your choice over the existing area perfectly!
Since these pieces are made to order specifically for you, they are watertight, helping to prevent mold growth behind the unit's walls. Are you wanting to convert from a tub to a shower or a shower to a tub? That's no problem! There are many retrofit models that exist to easily transform your bathroom.
A corner shower installation by Twoday's Bathroooms below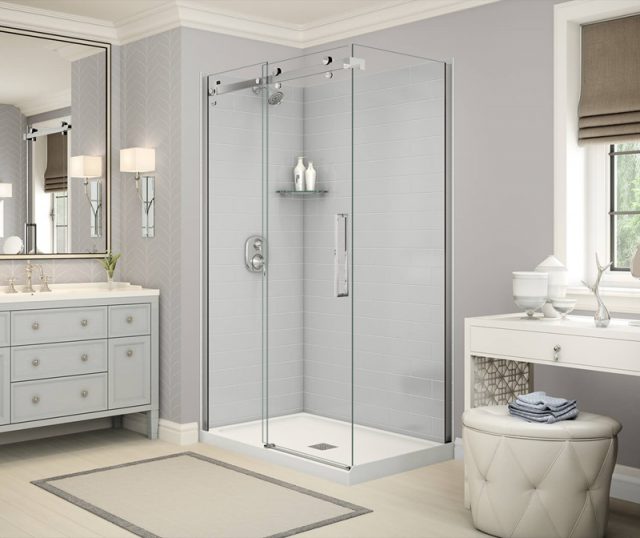 Design Your Bathroom With so many options out there, you can customize your new bathroom insert the way you want it. With so many patterns and colors to choose from, you really can make your new space your own. You can decide what kind of bathroom accessories you'd like to feature. From storage shelves to soap caddies, you can add as many or as few as you want.
Save Time and Money Since the new shower and tub install fits neatly over your existing space, there is no need for ripping up old tile, grout, drywall, or porcelain, saving you on stress, a big mess, and time. Professionals can install your new retrofit tub or shower in as little as one day! And also because you're not needing to gut your bathroom, you are saving money by using what is already there as a base with a new, sleek looking shower as a result.
Make a More Accessible Bathroom (and Safer, too!) Something to consider for your bathroom retrofit are your current needs. Even though you're not demolishing your bathroom and rebuilding from scratch, you can still update your bathroom to fit your current lifestyle. If you are having trouble getting in and out of your standard tub, and would prefer a an accessible alternative, we have those options. Step-in tubs or low-barrier step-in showers are two solid options for people who want less stress, more comfort, and greater self-sufficiency. These options feature slip-resistant floors and grip bars to make your shower or tub experiences that much safer.
Below, an accessbile shower with safety features like seating from Twoday's Bathrooms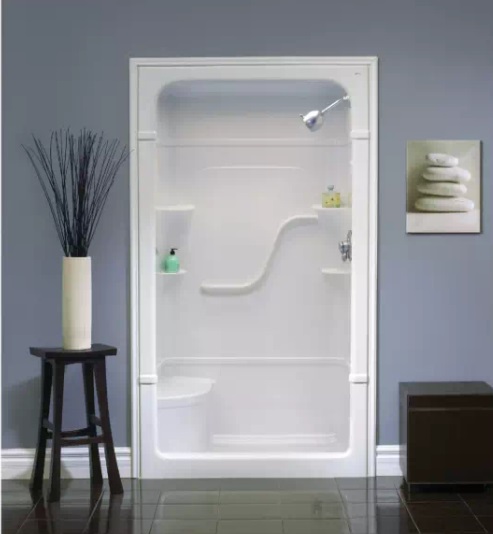 Water Saving Low Flow Toilets As you retrofit your bathroom with updates, you can also consider installing low-flow options for your shower, tub, sink, and toilet. Did you know that every time you flush a standard toilet uses an average of 4.5 gallons of water? By updating your toilet to a newer low-flow model, it will only use around 1.5 gallons per flush, saving water equal to about 40 showers!
Ready to Update Your Bathroom with an Easy Bathroom Retrofit? Contact Twoday's Bathrooms in St. Catharines for a fast free home consultation and quote!