When it comes to your bathroom renovation there are a lot of considerations, but getting the lighting right is an important detail that sometimes gets overlooked.
When it comes to lighting in the bathroom consider: type, function, temperature and wattage.
The "right" number of light fixtures for your space usually depends on the size of your bathroom but what usually works best is an approach called "layered" lighting meaning different sources for different reasons in different places.
Task Lighting
Task lighting helps you see what you're doing, primarily at the sink. Lamps above the mirror tend to cast unflattering shadows, so consider opting for wall sconces, pendant lights, or vertical bath bars that can be installed on either side of the mirror. If your bathroom doesn't have an overhead light, mount task lights higher on the walls so light gets distributed evenly throughout your bathroom.
Below, a Utile Shower system is installed with a nearby sconce for softer lighting and overhead light which provides general task illumination.
Accent lighting
Accent lights add depth and dimension to your space. If you have artwork in your bathroom, illuminate it with a recessed fixture. A recessed light in the shower can highlight tilework and make fixtures shine.
Below a Belair Tub Shower by Twoday's Bathrooms with recessed lighting.
Ambient lighting
If your bathroom lacks natural light, ambient (or indirect) lighting is a great alternative. This type of lighting is especially helpful in bathrooms with tall ceilings to "fill" the room with illumination. Rope lights hidden behind molding or a mirror add a soft glow, and toe-kick lighting underneath base cabinets illuminate the bathroom just enough for middle-of-the-night trips. Back-lit mirrors and medicine cabinets are also great ambient lighting options, as they don't cause any glare and can double as night lights.
Decorative lighting
It's perfectly okay to choose lights strictly for decorative purposes. These lights provide visual interest and can add to your bathroom's aesthetic. Want to evoke an industrial vibe? Add exposed Edison-style light bulbs. Looking to channel your inner movie star? Consider surrounding the mirror with round bulbs. If elegance is what you're after, hang a stunning chandelier.
BATHROOM LIGHTING COLOR TEMPERATURE The temperature of a light bulb, measured on the Kelvin scale, determines the color of light it produces and how flattering it is. Lighting experts recommend using warm white bulbs (technically called lamps) in the bathroom, with the sweet spot between 2700K and 3000K.
Warm Light Warm, white light has a color temperature of 2000-3000K (or Kelvins). This type of light is ideal for creating a calm, cozy environment. It works best with ambient and decorative bathroom lighting.
Cool Light Cool white light has a color temperature of 3100-4500K. This lighting is best for creating a bright, active ambiance and works best with task lighting.
Daylight Daylight has a color temperature between 4600 and 6500K. This light temperature creates a cool, invigorating vibe and works well with task and accent lighting.
BATHROOM LIGHTING WATTAGE In the case of light bulbs, wattage is a measure of brightness: 100 watts provides more light than 30 watts. It's best to use 75 to 100 watts in master or guest bathrooms. In powder rooms, 45 watts is sufficient. Since we require more light to see as we get older, brighter is better for mature adults.
Bathroom lighting designers recommend adding dimmers to your fixtures so you can adjust your wattage for different purposes.
BATHROOM LIGHTING PRO TIPS -If you plan to install lights above your shower or tub, be sure they're "wet rated."
-Avoid using fabric shades in the bathroom, as they'll develop water stains over time. Instead, opt for glass, plastic, or metal.
-Consider putting your lighting and fans on separate switches. Your different light layers should operate independently, as well, so you can better choose the look and feel of your space.
-A lamp's Color Rendering Index (CRI) describes how accurate colors appear in its light. A CRI of 100, offered by incandescent and halogen lamps, mimics natural sunlight. That allows the most accurate and flattering interpretation of colors. You'll want lamps with a CRI of at least 80 in your bathroom.
Wrap Up: Need help making good lighting decisions during your bathroom renovation? At Twoday's Bathrooms in St. Catharines we are experts in all aspects of the renovation. Please contact us by filling out a form online for a free in home estimate today.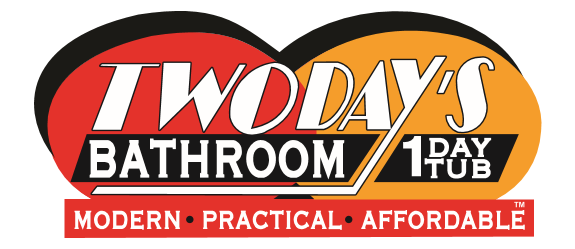 About