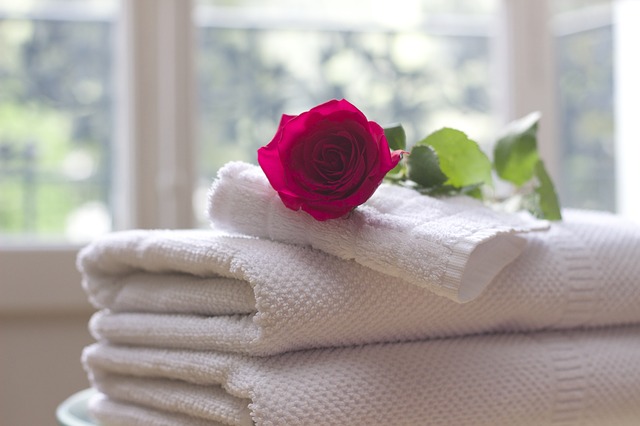 A great looking bathroom can make the beginning and end of your day so much more enjoyable.
From the moment you jump out of bed and brush your teeth to that relaxing bath at the end of the day, a bathroom matters and maximizing its appeal is important!
With that in mind we've put together a few simple strategies that you can use to make your bathroom its best.
Organize
Clutter and disorganization makes any space unappealing.  By decluttering you give yourself a calm environment where you can relax.
Consider cabinetry that has ample storage space if you do not already have it, and if you do, take a few moments to organize important items so that they are easy to reach and tucked away for a clean look.
Colour Matters
A neutral colour palette is not only always in style, it sets the tone for a relaxing environment.  As an added bonus, calm colours can increase the feel of spaciousness in a room and are timeless.
Below, a classic white Belair tub/shower combination blends seamlessly with beige walls, white accessories and wood toned flooring creating a spa like feel.
However, if you like to spice things up with a pop of colour, why not consider a bright accent wall or a colorful piece of art? Small add ons like this can be easily changed down the road and replaced as your mood changes.
Mirrors Want a bigger looking bathroom with an easy fix?  You can visually increase the size of your bathroom by adding mirrors.
If you have a window, try placing the mirror directly across from it or diagonally from it. This will help reflect the natural light. If you don't have a window, you can still amp up the light by placing two mirrors directly across from one another.
Plants One of the easiest ways to dress up any space is to add plants. Greenery in particular is easy to maintain and not only looks great but also  offers health benefits like improving air quality and boosting your mood.
Maximize Natural Light Windows in the bathroom can still be private yet add tons of light by using window treatments like frosted glass or top-up bottom-down blinds.  Consider these options rather than shade creating curtains.
Add a Backsplash Tiling the entire bathroom is expensive. Instead, why not add a tile backsplash over the sink. This gives your bathroom some beautiful texture, without overdoing it on the update side of things.
Accessories Consider candles, and pretty containers for toiletries like hand soap that are not only functional but add a stylish pop to any bathroom space and cost little to purchase.
Bonus Tip: Consider naturally scented candles that will also help to freshen the air.
For all your bathroom needs, the team at TwoDay's are here to assist you and if you are looking to renovate your current space we have lots of design options we can assist you with.
Remember your only limitation is your imagination!  Please contact us for a free estimate or more information today.