Have a great looking bathroom is one thing, but you also need it to be safe.  With that in mind we are going to take a look at one of the easiest safety features that can be used and how they work, the bathroom safety bar.
Bathroom safety bars (also known as grab bars), are handles installed in the bathroom at key points. They help with stability and leverage, allowing you to more easily navigate the bathroom.
The wet surfaces in the restroom add to the necessity of ensuring stability at all times. When a surface becomes wet, it gets slippery and this can lead to tripping and falling. In areas like the shower and tub, the walls also become slick. Grab bars give you a place onto which you can securely hold.
Dispelling the Myth of Safety Bars
Although thinking about adding safety features to your bath is often a consideration as you get older and your needs change, they can be a valuable tool at any stage.  When it comes to falls in the shower or bath, children are just as apt to slip as are seniors and adults can also have accidents.
Studies in fact have shown that there are over 230,000 non-fatal bathroom falls each year in people over 15 years of age. With that in mind lets explore them in more detail.
How do You Choose the Right Grab Bar?
Grab bars come in a variety of sizes, materials, colors and finishes. They can range widely in price and can feature different textured surfaces. To peruse a variety of them in person, you can visit a home goods store.
Below, a brushed stainless steel grab bar is a modern take on a safety bar.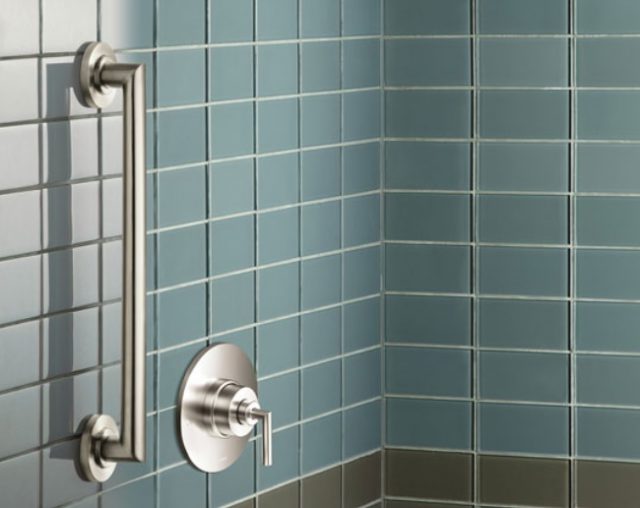 Some things to keep in mind when selecting a grab bar include:
How obvious do you want it to be? Some grab bars are more obvious than others. If you want something that's more discrete, look for a grab bar that matches or compliments your shower walls. This will help it blend into the surroundings.
What material is the other hardware in your bathroom? If you aren't going to match your grab bar to the walls, you may want to match it to the other fixtures in your bathroom. This will help create a cohesive look.
How much does it need to hold? One of the biggest things when it comes to grab bars is making sure they are sturdy enough to get the job done. Grab bars typically range from 1¼-inch to 1½-inch in diameter. Spend some time grabbing one and seeing if it has enough stability to hold you up.
Where Should I Put Grab Bars?
Grab bars should be installed in the safest and most convenient area of the shower or tub. They must be connected to wall studs. It is sometimes a good idea to  have family members stand inside the bath or shower to ensure that everyone will be able to reach it when needed.
Shower Stall Grab Bar Placement
Here are a few rules of thumb for where to place grab bars in your shower.
Vertical entrance bar should go close to the shower door jamb. Horizontal bar should go along the side wall, 34-36 inches above the floor. Vertical bar on the faucet end wall should go near the faucet handles.
Bathtub/Shower Combination Grab Bar Placement
For placing grab bars in your bath tub or bathtub shower combination, use these tips.
Vertical entrance bar should be installed on the wall opposite the faucet. Horizontal bar should be attached to the side wall and should be as long as possible. It should be about 30 inches up from the tub floor. Another vertical bar should be attached to the faucet end wall near the faucet handles.
Bottom Line: It is not possible to prevent every accident but by installing grab bars in your bathroom but you will greatly reduce the chances that someone in your home will fall and be injured.
The team at Twoday's Kitchen and Bath would be pleased to assist you in making sure you get the safety products that suit your family best.  Please contact us for more information if you would like to find out more.