At a time like this we really need to focus on cleanliness to help stop the spread of COVID-19, so we have put together an easy guide for home and personal cleaning with that in mind.
First and foremost more frequent cleaning is recommended in all areas of the home. Cleaning, particularly of frequently touched surfaces, can kill the virus, making it no longer possible to infect people according to the government's informational website.
Frequently touched areas may include places like sinks, toilets, bedside tables, light switches and door handles which should be first cleaned (to physically remove dirt) and disinfected daily with water and regular household cleaning products or a diluted bleach solution (0.5% sodium hypochlorite).
If they can withstand the use of liquids for disinfection, frequently touched electronics such as phones, computers and other devices may be disinfected with 70% alcohol (e.g. alcohol prep wipes). All used disposable contaminated items should be placed in a lined container before disposing of them with other household waste.
Ventilation
Increasing ventilation (e.g. opening windows when weather permits) may help reduce transmission as some studies have shown that increased ventilation was shown to reduce influenza transmission.
Cleaning Your Hands
Hand washing with soap and water or hand sanitizing with alcoholic solutions, gels or tissues to maintain clean hands and fingernails should be done regularly with soap and water for at least 15-20 seconds:
Before and after preparing food;
Before and after eating;
After using the toilet;
After coughing/sneezing into a tissue
After handling body fluid-contaminated waste or laundry;
Whenever hands look dirty
Touching one's eyes, nose, and mouth with unwashed hands should be avoided.
If soap and water are not available, hands can be cleaned with an alcohol-based hand sanitizer (ABHS) that contains at least 60% alcohol, making sure that all surfaces of the hands are covered (e.g. front and back of hands as well as between fingers) and rubbed together until they feel dry.
For very dirty hands,  an alcohol-based hand wipe should be used first, followed by use of ABHS.
On a final note, the team at TwoDay's Bathrooms wish everyone well during this challenging time.
Although our retail store is temporarily closed,  we are still responding to any  email  or phone inquiries at 1-844-TWO-DAYS.
Alternatively you can fill the form out below to contact us about all your bathroom needs including our 1 DAY and 2 DAY Bathroom makeover packages.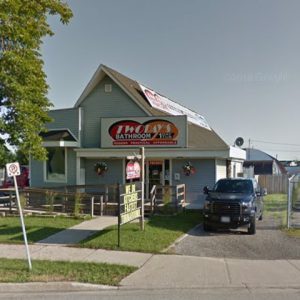 Twoday's Bathrooms – Providing expert solutions in the Niagara Region for a beautiful new bathroom in 2 days or less!
239 Carlton St.
St. Catharines, ON
L2R 1S1‎
1-844-TWO-DAYS
We serve the areas of: Fort Erie, Grimsby, Lincoln, Niagara Falls, Niagara – on-the-Lake, Pelham, Port Colborne, St. Catharines, Stoney Creek, Thorold, Wainfleet,Welland, West Lincoln, Crystal Beach and Ridgeway