Bathroom counter tops don't usually face the same amount of abuse as the ones in the kitchen (knives, hot pans, oven trays, etc).
However, there still are important considerations for this high use counter such as: material, style, budget and the ease of maintenance.
Plus you want it to look great because it contributes to the overall look and feel of the space.
Here we will examine the pros and cons of three popular bathroom surfaces:
Granite
Granite is available in a wide range of patterns that go from subtle to bold. It is among the premier in the natural stone choices. It gives the bathroom an elegantly dramatic look and its beauty is likely to add resale value to your home.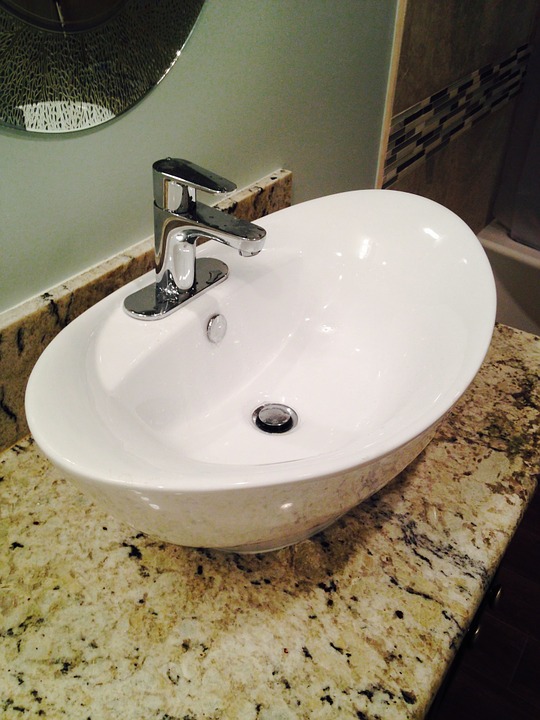 Pros
High-end designer look
Long lasting, water resistant, stain resistant, scratch resistant, and easy to clean
Superior durability and resistant to humidity and heat from a hot curling iron
When sealed properly requires minimal upkeep
Cons
One of the most expensive counter top materials
The material has a high chance of getting damaged if not handled properly.
Maintenance
Granite counter tops required to be sealed every six to twelve months. They must be cleaned with warm water and liquid detergent. Harsh cleaners must be avoided as they stain they can cause scratches and dull the finish. If there are small scratches or chips, they can be removed by polishing.
Laminate
Laminate Bathroom counter tops or vanity tops are available in numerous colors and styles.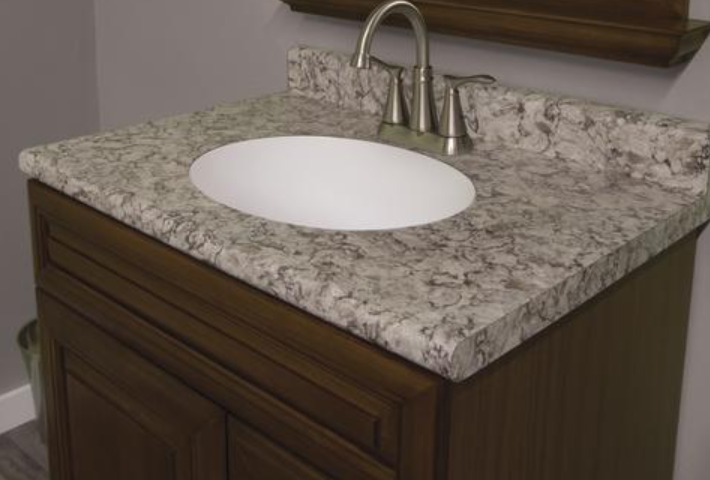 The material is budget-friendly and is a very good option for a family bathrooms or teenagers' bathrooms.
Laminate counter tops are made from a thin plastic surface that is pressure bonded to a particleboard or a plywood base. The latest printing technologies are used for laminates these days to create realistic stone like and wood like finishes.
Laminate counter tops also work well for guest bathrooms, basements or other areas that aren't used too much.
Pros
Very affordable and economical
Available in a wide range of patterns and colors
Easy to clean, water resistant and it's low maintenance
Excellent stain resistance
Relatively easier to install
Cons
Laminate tends to thin and dull over time
Not immune to edge-chipping and scratches. Long-term exposure to high humidity and moisture may cause the material to peel or detach from the substance beneath
Damages cannot be repaired, the counter top will have to be replaced
Highlight
Laminate can be formed into a seamless cover back splash to prevent water from seeping into cracks.
Maintenance
Makeup spills or other spills should be cleaned immediately. For everyday cleaning, you can dip a soft cloth in mild liquid detergent or any other cleaning agent to wipe the counter top.
Quartz
This is one of the hardest and most bountiful minerals available in nature. As a matter of fact, almost every type of stone contains a small percentage of this material. Quartz bathroom counter tops are made from over 90% organic quartz and the rest from pigments, resins, and recycled content. Some homeowners even feel that quartz looks better than granite.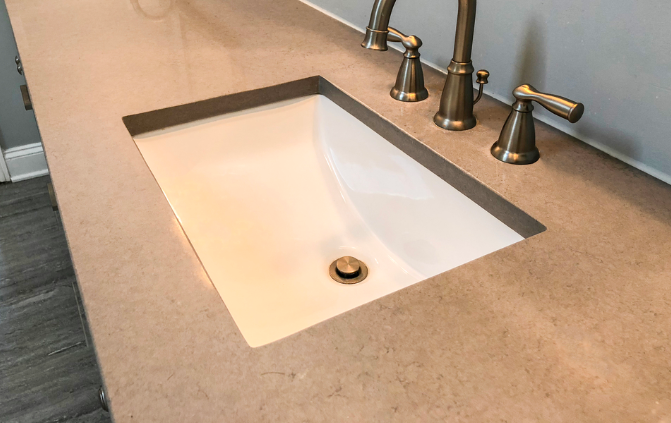 Pros
Wide range of natural stone or vibrant tones are available
Never requires sealing or polishing
Stain, scratch, moisture, and bacteria resistant
Available with ready to install under mount sink
Cons
Quartz can sometimes cost as much or more than certain granite
Textured or honed finishes will show fingerprints and smudges, frequent wiping may be needed
Can get damaged by acidic or highly alkaline chemicals like solvents, bleach, and abrasive cleansers
Highlight
Quartz has a built-in micro ban antimicrobial protection that improves the hygiene in busy bathrooms.
Maintenance
Take a soft cloth or a sponge and wipe the counter top with mild soap and warm water. Use a dry cloth to wipe it afterward.
Overall there are many choices in counter tops these days, we have covered the three most prominent in the market, but there is something for every taste and budget.
For all your bath counter top needs, our team at Twodaysbathrooms.ca is here to help you pick the one that works for you.
Contact us today for a free in home estimate: 905-641-2284 or email:HERE