Gelcoat Premium Series
A 28×48-inch Walk-In Bathtub with Combo Air Spa and Whirlpool Massage Systems – Left Door and Drain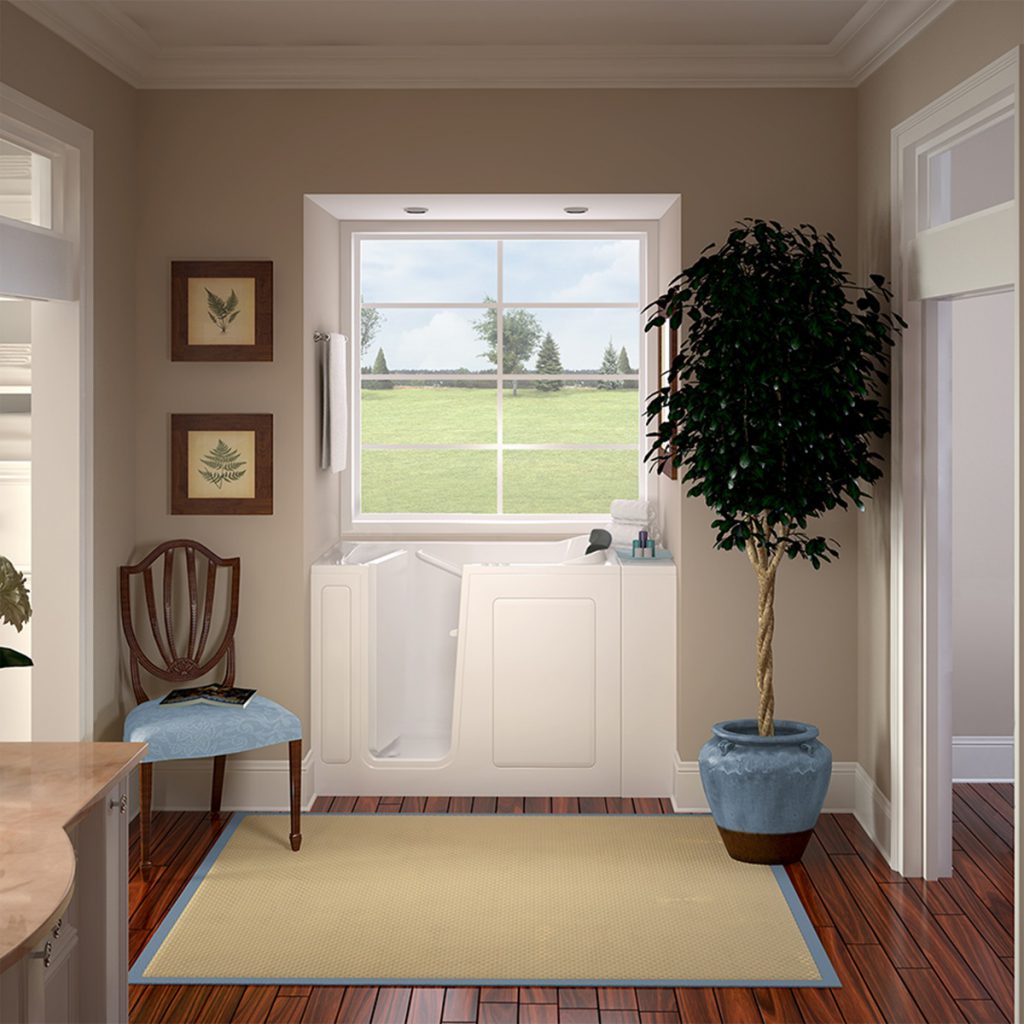 The Gelcoat Premium Series 28×48-inch Walk-In Bathtub with Combination Air Spa and Whirlpool Massage Systems from American Standard combines the awesome massage power of both our whirlpool and air bath massage tubs. A relaxing ambiance is created with the Chromatherapy light system, positioned at the bottom of the tub, lighting the mood for your most relaxing bath ever. A Quick Drain® system drains the tub in under 2 minutes, with no additional plumbing required, to allow safe exit from the tub.
Features the Whirlpool Massage system with 13 water jets, an in-line heater, a legs-only massage for a soothing and invigorating therapeutic bathing experience; the Ozone Self-Cleaning Sanitation System helps keep your system running clean and efficient
Features the Air Spa system with 26 air jets delivering advanced water-based therapy the variable speed heated blower delivers thousands of bubbles that gently encourage circulation – the auto-purge cycle helps keep the system running clean and efficient
Multi-colored Chromatherapy light system positioned at the bottom of the bath creates a peaceful bathing experience
The full-sized, watertight door is contoured and has a low threshold that allows ease of entry and has a lifetime warranty on the door seal, a 10 year warranty on the tub shell and a 5 year warranty on all other components
Equipped with our patented Quick Drain®, requires no additional plumbing, and once activated it rapidly pumps the water out from within the tub in less than 2 minutes–making it safe to open the door and exit the tub
Constructed of durable, hi-gloss Gelcoat with easy-touch push button controls, includes a neck rest, and a color matched drain, overflow and safety grab bar
The chair height, built-in seat is contoured, allowing for more room to comfortably soak, ease of sitting/standing
A built-in safety grab bar and textured bath floor increases your level of bathing independence and delivers peace of mind by giving you fewer opportunities to slip or lose your balance .                      For more information click the link here or contact us for further assistance.